If anyone had asked me about the phrase "summer reading," I would have guessed that it's fairly recent, perhaps coming into use with the rise of industrialized schools and the long summer break, and that it's become steadily more frequent over the last 50 years. Google's Ngram Viewer puts the lie to both conjectures: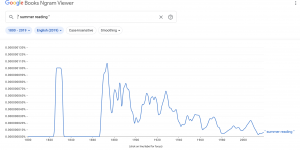 There's a blip in the 1820s (why?), another peak in the 1870s, and an up-and-down but declining roller-coaster thereafter. In the absence of more data, speculation about causes is futile, but for whatever reason, people seem to be thinking less, or at least writing less, about summer reading.
Still, among those of us whose life has been lived on the academic rather than the civil calendar, late May invites attention to a particular kind of reading: not strictly professional (I have those books on tap too), but in some combination entertaining, instructive, and mind-stretching. Here's my list for summer 2023: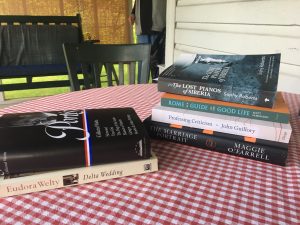 Sophy Roberts, The Lost Pianos of Siberia
This came off the stack first—Roberts, who began her working life as an assistant to Jessica Mitford, writes a combination travelogue and memoir about tracking down pianos in the most Godforsaken parts of Russia. So far, so good—I'm about two-thirds of the way in, on the Kamchatka peninsula.
Scott Samuelson, Rome as a Guide to the Good Life
Combines two of my enthusiasms: Rome and philosophy.
John Guillory, Professing Criticism
At one point earlier this year, this got a lot of press in journals favored by academic literati—I thought I should investigate.
Maggie O'Farrell, The Marriage Portrait
Another combination of enthusiasms, this time art history and historical novels.
The new Library of America volume of Charles Portis' works
Despite being a fellow-Arkansan, I'd never read True Grit or anything else by Portis.
Eudora Welty, Delta Wedding
Continuing the Southern theme. Although she's from Mississippi, not Arkansas, Welty write about the South I know.
And finally, one book not in the picture because the good people at Harvard University Press haven't sent it yet:  Statius, Thebaid. Despite a life reading and teaching Latin, I'd never looked at the Thebaid until earlier this year, when Bryn Mawr asked me to fill in for a professor who couldn't serve on a dissertation committee. I had about a month to read the dissertation and as much of the Thebaid as I could, and I was hooked.
~Lee T. Pearcy
Memorial Day 2023