Philadelphia has many more elegant and better situated neoclassical buildings than 30th Street Station.  From the outside, the station is basically a rectangular box with a Corinthian portico tacked on at either end, flanked by wings whose plain, Depression-era pilasters look as though they belong to a different building altogether. It is hemmed in by a river, parking lots, and the Schuylkill Expressway. But to someone arriving by train from another city, the inside of the central box—the great, golden space that opens up at the top of the escalator—offers one of Philadelphia's best welcomes and is certainly an improvement over the airport of hell known as Penn Station in New York.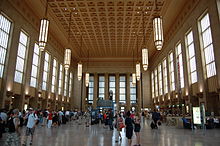 In September Philadelphia will welcome Pope Francis, and then the Democratic national convention comes to town in July 2016.  It's time to get the magazines off the coffee table and polish the silver.  The Philadelphia Inquirer reports that Senator Bob Casey (D. Pennsylvania) has urged Joseph Boardman, president of Amtrak, "to put into motion a plan for revitalization of the station's interior."  Gerard Sweeney, the head of Brandywine Realty Trust, is somehow part of this conversation.  Brandywine, whose elegant Cira Center skyscrapers flank the station, is working with Drexel University to develop plans for the area around the station, and Sweeney would welcome a makeover of 30th Street's interior: high-end retail, better signage and lighting, renovated waiting areas, and so on.
These are all good ideas (although I hope they keep the long wooden pews in the main waiting room–some of my best ideas have come while I was sitting on them).  More needs to happen, though.  The interior is the glamorous space, but the station's exterior, like a neglected stepchild, also needs attention, as reported here.  Private money like Brandywine's, or even public-private partnerships, understandably focus on high-impact, profit-producing spaces.  Exterior stabilization and repair of an eighty-five year old building are a harder sell.  This is where public funding plays an essential role, and Sen. Casey should focus his efforts on securing federal money for necessary work to Amtrak's third-busiest station.  Amtrak and Brandywine can find a way to polish the silver and tidy up the living room.  Congress needs to step up and take care of the outside of Philadelphia's great neo-classical gateway.