Michelle Francl, my Bryn Mawr colleague and chemistry professor, has a new post on her Quantum Theology blog (highly recommended) about summer reading. My memories of summer childhoods have much in common with hers, even though mine are from the 1950s, not the 1960s, from urban Little Rock, Arkansas, not rural Illinois, and don't involve much cooking.  But we do have one thing in common: lots of reading, and a public library that made it possible.  In Little Rock it was the old Carnegie building, columned and classicizing, with its entrance on Louisiana Street.  The children's section was in the basement, with its own entrance off Seventh Street–the doorway was one of the rectangular openings on the lower level, just behind the automobile in this picture.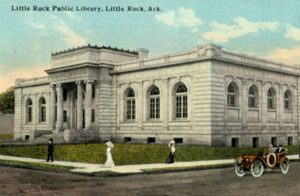 By way of a thank-you for Professor Francl's offering, here's my stack for the summer, in no order except how they happen to be at hand:
Rod Dreher, The Benedict Option. This one has come across my radar too many times to ignore–and there's no point in reading only books that you think you'll agree with.
Philip Roth, The Plot Against America.*
Siri Hustvedt, A Woman Looking at Men Looking at Women.
Eleanor Dickey, An Introduction to the Composition and Analysis of Greek Prose.  One consequence of retiring from teaching Latin three or four times a day and Greek once, as I did for nearly 30 years at the Episcopal Academy, is that one needs to have a plan for keeping up the languages.  Doing a little of this a day is mine.
Geordie Greig, Breakfast with Lucian: The Astounding Life and Outrageous Times of Britain's Great Modern Painter.
Cicero, De Officiis (On Moral Duties):  A late addition to the list–I dipped into it thinking it might have some relevance for a book about the Aeneid that I'm writing, and can't put it down.
-Lee Pearcy
*Follow-up 7/1: This may be the scariest book that I've ever read. Especially now.